Some hints and tips from Henna Artist, Emma De Mornay Davies: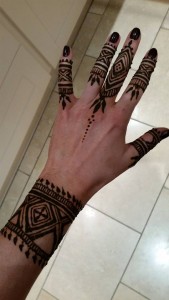 Body art is becoming extremely popular at the moment, especially at festivals and events. There are so many beautiful ways to adorn and decorate your body, you can choose different styles according to your taste and the event you are attending. One of the more ancient arts of decorating the body is Henna. Henna is made of completely natural products which react to the heat of your body to develop a beautiful dark stain over 48 hours. Traditionally Henna was used in Asian weddings to cool and calm the bride, as well as make her look beautiful. It is now being used widely by Westerners that don't want the permanence of a proper tattoo.
There is a new product on the market called Jagua that produces a beautiful blue/black colour. It looks like a tattoo but is semi-permanent and lasts around 7 days.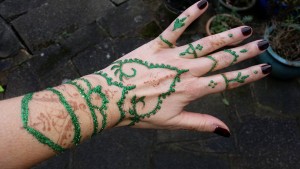 Other options are glitter tattoos which look great for evening events or white Henna which is not strictly Henna. It is a mixture of body paint and other ingredients that are safe to apply to the skin that can be used to create beautiful patterns that look like lace. White Henna is ideal for brides that might what an 'alternative' garter, it also looks beautiful on dark skin.
UV Body paint is great for the summer for carnival season, festivals or nights out, the fluorescent colours give designs that wow factor!
FB: Emma Henna
Email: emmadmd@blueyonder.co.uk
Instagram: Emmahennayoga
Are you on Social Media? Make sure you are following us!