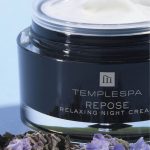 Bellamy Central is pleased to welcome TEMPLESPA to the next Evergreen Health & Wellbeing Fayre. Learn more about their great products and services.
TEMPLESPA is a spa skincare brand that focuses on body, mind and soul. Twenty-three years of making a difference, an award winning British brand inspired by the Mediterranean, we create exceptional skincare products and wellness experiences that make a real difference to your skin and soul health. We believe that your body is a living temple. Honour it, enjoy your life and live it to the full.
We are wholeheartedly committed to the ethical and responsible sourcing of our raw materials. All our skincare ingredients are 100% cruelty free, 100% is suitable for vegetarians, and 76% is suitable for vegans. Sustainability and giving back to the community is at the heart of our company. We are totally committed to our continuous environmental improvement plans and continue to make a difference through great charitable causes.
Meet Jeanne at the TEMPLESPA stall at the Evergreen Health & Wellbeing Fayre on Sunday, November 26th, 2023. Book your tickets now.
Visit the TEMPLESPA website for more product and service information https://spatogo.templespa.com/jeannekhoo